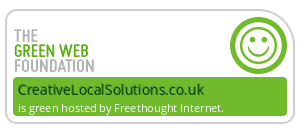 "A VPS is more energy efficient than a dedicated server. Tilaa uses only CO2 neutral datacenters running on 100% renewable energy.
Our datacenters are ISO 14001 certified which requires them to continuously innovate at the energy saving level. The achieved PUE ratio is currently below 1.2, the lowest available in the market today."
Drupal hosting is included in web development services. Hosting client's sites on the Creative Local Solutions web server allows me to have much greater control over their development, and to be able to respond to any hosting issues in an efficient way.
The standard offer is for a Supported Hosting and Maintenance Contract, with the option of up to five mail boxes included.
Hosting is generally free for the first year for clients with whom I have developed their site from scratch. The standard rate for not-for-profits is £80 / year in a single installment. A monthly direct debit payment plan is also available via GoCardless.com for £8 / month.
The fully managed service includes:
Drupal 7 Content Management System
Security upgrades
Email provision for up to 5 mailboxes
Webmail service
100% carbon neutral green hosting
Optional Extras include:
CiviCRM Constituent Relationship Management System
Additional mailboxes in blocks of five
Green hosting
Sites are hosted on a VPS (Virtual Private Server) located in a data centre in Amsterdam, and managed by Tilaa.com. I have chosen to host my sites with Tilaa because they provide a very competitive service, and use data centres that utilise renewable energy and are 100% carbon neutral.
Email provision
Up to five mailboxes, and five aliases (auto-forwarding) are available with a hosted website.
Additional mailboxes can be purchased in blocks of five.
Mailbox services include webmail, SMTP, POP3, and IMAP.  
An administration console is available for managing mailboxes.
Professional Indemnity and Public Liability insurance is provided by Policy Bee. Schedules are available for inspection upon request.